Collaborative Electrical Rewire – Part 1 : Introduction, Planning & Procurement
Introduction – safety is paramount
After Simon James Lewis had been round to discuss internal weather, occupant behaviour etc in relation to my own house – he suggested it would be prudent to upgrade the electrical system with some urgency.  Despite attempting to allay my fears regarding various other aspects (a leaking roof for example!) …suggesting taking my time to formulate the most effective and suitable solutions; he pointed out that it was extremely important to have a safe, functional site for myself and others to work in – something that we couldn't guarantee when running high-draw tools & equipment off of such an old, repeatedly modified electrical system.
I was acutely aware that the electrics here were ancient and needed complete overhaul – indeed I had bought the house understanding that this would be part and parcel of the overall renovations.
My decision to move into the house whilst it was still semi-dilapidated was borne out of urgent necessity and was far from my initial intention. I was reluctantly making do with something I was cognisant could be potentially unsafe, running modern appliances off previous occupants diy extensions that were a long way off ever meeting modern electrical safety requirements & were probably only originally installed & rated for use with lamps. I rationalised that it had been ok so far – the risk from the electrics seemed manageable with common sense usage & in any case, much less pressing than the very real danger that had forced me into this situation in the first place.
Getting over the first hurdle
I was feeling daunted at the prospect of moving things forward; I was conscious that living in the property whilst renovating brought a new set of challenges to maintain liveability and sanity, whilst finding different advice at every turn regarding the best method/order of things.
Knowing that the house opposite had burned down due to an electrical fire (thankfully no one was hurt) brought home that my hoping for the best until I felt ready to make decisions on location & quantity of sockets, light fittings etc, was foolhardy and – as I discovered – quite unnecessary.
The most important part : Finding a good electrician!
Luckily Simon was kind enough to introduce me to Sam Crawford, a qualified electrician who has worked with Simon before in addition to other Neighbourhood Construction folk.
Initial meeting & site visit : 5th November 2016
Sam's manner immediately put me at ease & I felt reassured by his gentle, calm and thoughtful approach. I can find it quite anxiety-provoking meeting new people and inviting them into this house-of-horrors in particular, yet Sam gave me space to voice my thoughts and ask questions whilst offering advice and opinions in a respectful, quietly confidence-inspiring way.
Discussing the options
Radial Circuits
Simon had already mentioned that Radial Circuits were a good option, which meant I'd already had chance to do some research on the relative merits of this option vs. the more familiar & common Ring Main.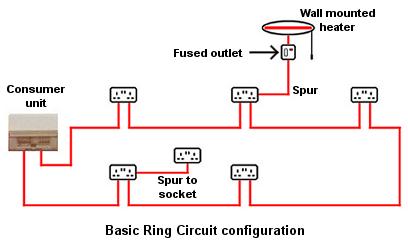 Initially I was unsure about this, since the old sockets were wired up this way – daisy chained together with one single socket in the front room, running to another single in the dining room, onto the kitchen and then out into the shed! The wiring was clearly done in a diy fashion, running on strange curved and sloping angles under lumpy plaster & filler; so I now (wrongly)  associated this method with cutting corners.
Some cursory research indicated that radials are safe, easier to test, are becoming much more common and are the norm in much of europe. This article looks more extensively at why ring mains might not be as safe as radials.
We discussed the possibility of having a single radial circuit for each room, which appealed since it enabled easy isolation to add sockets or ensure safety when renovating on a room-by-room basis. From a lay-person's perspective, this would involve a single cable (2.5mm twin & earth) running from the consumer unit to the first socket in each room.
This would require a consumer unit with more 'slots' but I felt it was worth the relatively small extra outlay to get a larger consumer unit, which would allow for better future-proofing and flexibility.
Number & location of sockets
It was discussed and agreed that for now, a single 2-gang socket in each room would be sufficient, since extra sockets could be easily added as needed in the most useful locations without needing to make all those decisions up-front (one of the things that had been daunting).
Cables
Surface mounting the cables for now also made sense since it would be quicker and easier, whilst allowing for any future adjustment before final placement and making good when completing each room. Again, this was something I worried about being unsafe, but it was explained (without any condescension!) that this wasn't the case due to the modern circuit breakers & every bit of wiring being carefully replaced & tested. Being able to see the cables – whilst maybe a little unsightly – was absolutely no more dangerous than what was here before. In fact, being able to see all cables when renovating has its advantages… no need to use a cable detector before working on a wall!
Sam was more than happy for me to be involved in helping to lift boards, drill holes, run cables & provide fixing points etc. I didn't want to get in the way, but I am trying to take every opportunity to upskill & expand my understanding of various trades along with deepening my grasp on the design and functionality of my own house. Finding someone who was happy to work collaboratively with me was truly refreshing.
Communication
06/11/2016 : Confirmed with Sam I would like to go ahead with CU replacement & full rewire with radials to all rooms. Explained I thought 7 circuits would be needed currently (upstairs lighting, downstairs lighting, radial circuits for front reception, middle reception, kitchen, front bedroom & middle bedroom) and possibly 5 more left free for future proofing (back bedroom if bathroom is relocated, bathroom shower or extractor, boiler, oven, garden socket or lights)
10/11/2016 : Agreed I will source & purchase supplies including a 16-way consumer unit. Set provisional date of 14th/15th December with time required being predicted to be 3 days. Sam suggested I contact electricity supplier/distributor regarding means of earthing.
15/11/2016 : Clarified that current lighting is all one one circuit – the smaller box with the switch next to the main fuse board switches off all lights. Asked for explanation of what cables needed to be purchased. I conveyed that Western Power had been contacted & they had no records for the property – thought earthing was most likely TT if anything – but that they could provide PME (tn-c-s) charged at ~£263 (would only have been £67 with my old supplier Ovo!)
Sam explained that we would need 100m or 1.5 & 2.5 twin and earth cable, along with a smaller reel (50m) of 3-core for any 2-way switching (1 light operated by 2 switches)
28/11/2016 : Agreed to upgrade lighting circuits. Asked if any considerations regarding installation of PME by Western Power. Requested whether an IP20 bathroom wall light could be connected due to bathroom ceiling collapse & discussed pull cord or switch in hallway due to roof leak directly above.
30/11/2016 : Sam suggested look into getting an Isolator Switch fitted by Western Power so that we don't need to arrange for them to come back & isolate the supply when he connects the new consumer unit. Clarified that double pole faceplates are unlikely to ever be useful for me in a domestic situation, so single pole would be fine. He also explained that leaving a week between rewiring and testing would allow chance to live with the install and decide if anything needed tweaking.
I raised the possibility of a solid limecrete floor in future & maybe running the cables down from the ceiling rather than up from the floor.
01/12/2016 : PME earth & isolation switch installed by Western Power
11/12/2016 : Sam checked in to ask how the earthing install went & to ensure everything was ok for the 14th/15th.
12/12/2016 : Sent photo of earthing/isolator switch install along with list of supplies ordered. Asked about installing extra landing socket & any logistical considerations for keeping open the possibility of moving the consumer unit to a 'storage wall' on the other side of the hallway in future
13/12/2016 : Sam confirmed that potential future consumer unit moving logistics shouldn't be too difficult from his side of things as long as we kept a bit of slack in the cables & that the landing socket could be added to one of the bedroom radials.
Sam's communication via email was absolutely exemplary and suited me well (I prefer written communication due to experiencing some auditory processing issues). Everything was clear and logical. I felt supported and on the same page through the process of planning & procurement.
Supplies
More to come in Part 2…